All proceeds go to charity
This book was written for one reason: to help.


100% of proceeds from all sales are donated to fitting causes.

75%: The AFSP funds research and supports those affected by suicide. And they're super good at it. Learn more over here.

25%: Silly name, big results. Also known as the Project for Awesome. Raised over $1.2 million last year for 24 different charities. More over here.
It's over at Amazon.com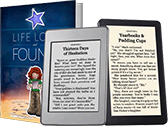 Go There
The e-book version is currently just 99 cents!
That's less than a half-decent sandwich. Not too shabby!
Mmm... half-decent sandwich...
---